Khan Academy is an American non-profit educational organization created in 2008 by Sal Khan. Its goal is to create a set of online tools that help educate students. The organization produces short lessons in the form of videos. Its website also includes supplementary practice exercises and materials for educators.
College Board is committed to giving every student free access to the best test prep available. The test prep program we recommend to students is Official SAT Practice, delivered online through a partnership with Khan Academy. Official SAT Practice will diagnose your strengths and weaknesses, provide you with a customized program of study, and provide you with materials to practice with every day.
Texas institutions of higher education use the Texas Application for State Financial Aid (TASFA) to determine a student's eligibility for state and institutional aid. This application is only available to Texas residents who are ineligible for federal student aid.
Each year, the TASFA becomes available for the upcoming application cycle on October 1. Students are encouraged to submit their TASFA form and supporting documentation as soon as possible after this date. Whenever possible, students should try to apply by the state and institution's priority deadline, as more financial aid will be available.
In Texas, the state priority deadline is January 15 of the current academic year. All General Academic Teaching Institutions must use this date as the priority deadline. All other public and private/independent institutions are encouraged to do the same.
Watch this video to learn more about helping students access financial aid for higher education through the TASFA.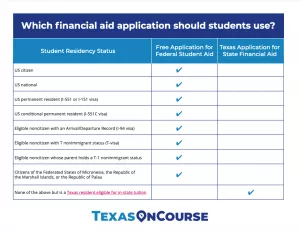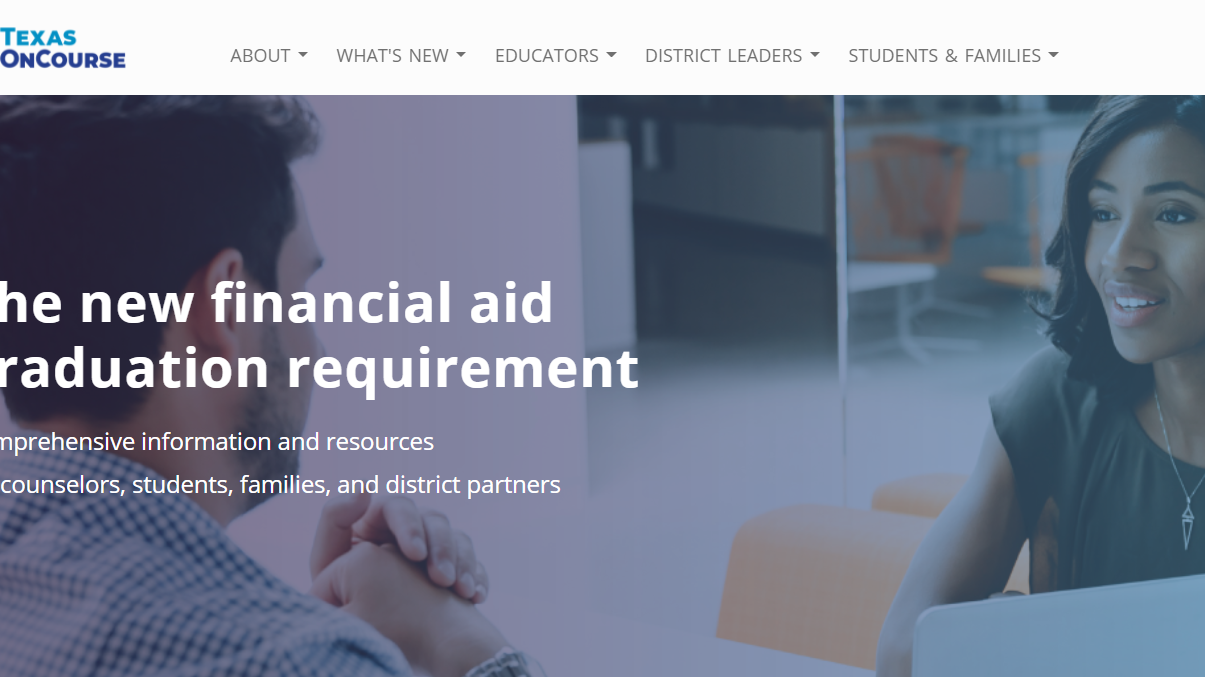 This site is your comprehensive guide to success in meeting the new financial aid graduation requirement. You'll find comprehensive information and resources for students, their families, counselors and advisers, and community partners.
Apply to FAFSA and get matched with college scholarships instantly and apply online with a common app for students and tools for counselors and providers.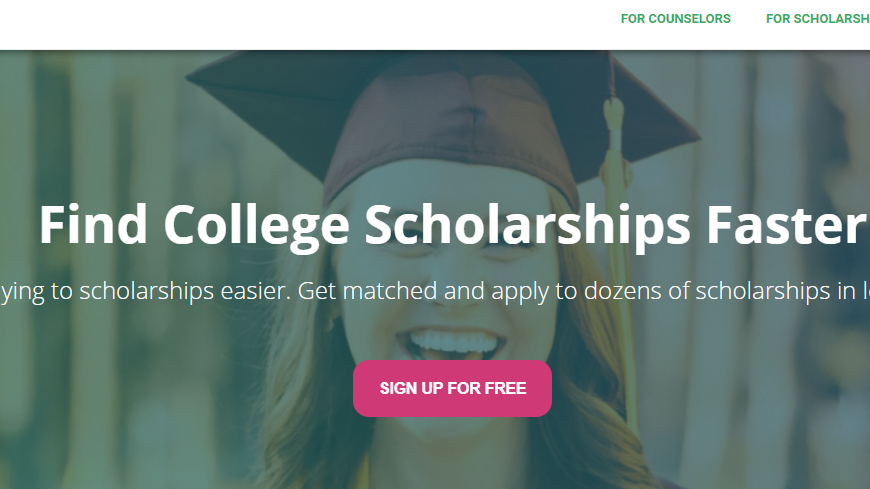 How much does a college cost?
This tool gives an up to date sticker price and a net price for each college based on a family income, also providing some insights on graduation and retention rates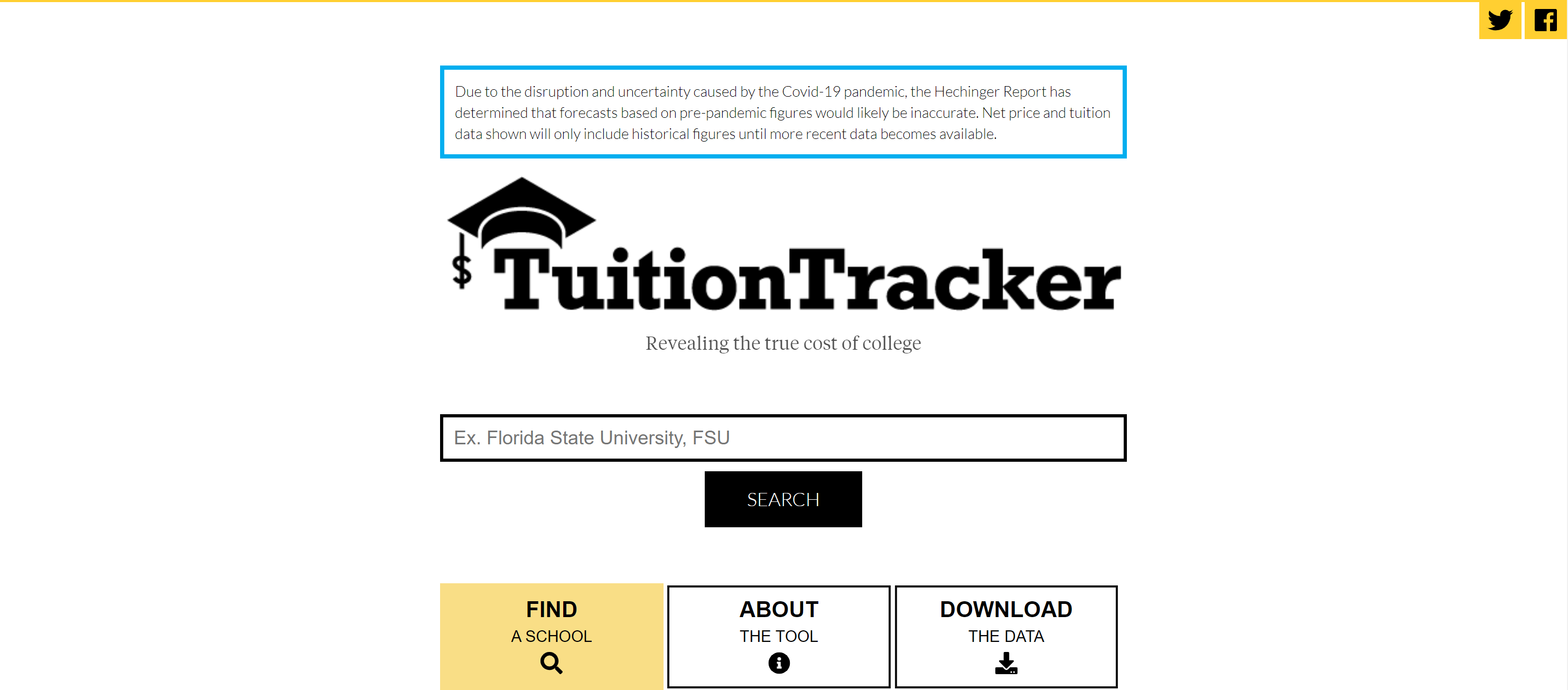 Reliable Information About Financial Aid
Adventures in Education is your one-stop shop for college financial aid planning. Just a few of the handy features on this website include:
Step-by-step guide to the FAFSA

Scholarship search

Information on credit and loans

Comparison of post-college earnings based on city and profession

Debt tracker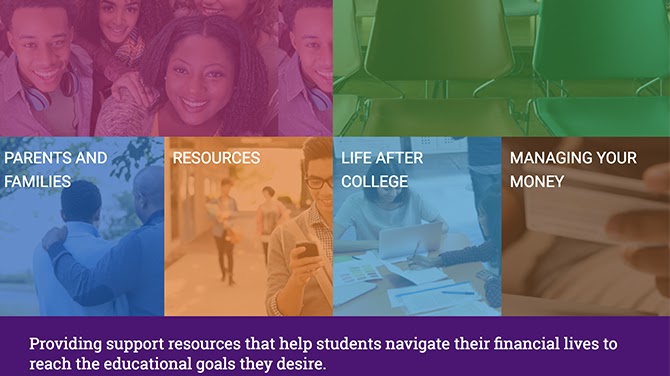 The FSA website has tons of relevant information for students, from what types of aid are available to how to qualify for aid – even how to manage student loans after graduation. The FSA website also has financial aid information unrelated to federal aid. Whether it's resources to help you find and apply for scholarships or simple instructions on how to create a budget, FSA wants to ensure you have the tools for financial success in college.