HPS College Match & Fit Framework
College acceptance and enrollment are important, but college completion is the goal!  Students are more likely to graduate if the college they choose to attend fits their social, academic, and financial needs. The HPS College Match & Fit framework is designed to ensure that all students are provided with resources and guidance to help them make informed post-secondary choices in their college planning, application, and enrollment.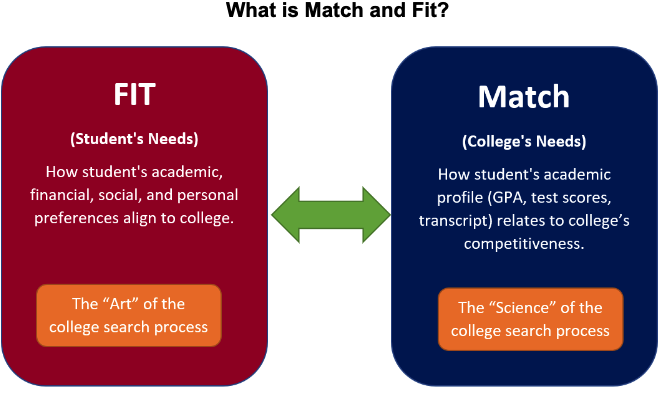 Match,

most broadly, refers to the degree that a student meets a college's needs or prerequisites. Often, it explicitly refers to institutional selectivity/entrance requirements and students' academic ability.
Fit

is the degree to which a college meets a student's academic, social, financial, and other needs and interests. Fit may be based on a variety of these factors, including location, academic programs, class sizes, graduation and employment rate and support services. Students will encounter a variety of options that meet their needs.
 Why are Match & Fit Important?
Students who are academically matched to a college are more likely to complete a postsecondary program.
A good college fit leads to high satisfaction which increases a student's likelihood to persist and graduate.
College & career counselors can shift students' trajectories to help them make better college choices that both match and fit their academic, social, and financial needs.
HPS College Match & Fit Process
The college match & fit process starts with developing students' aspirations for college, teaching them how to effectively navigate through the college search process, guiding students through building their balanced college lists, and assisting students during their postsecondary decision-making and college enrollment process.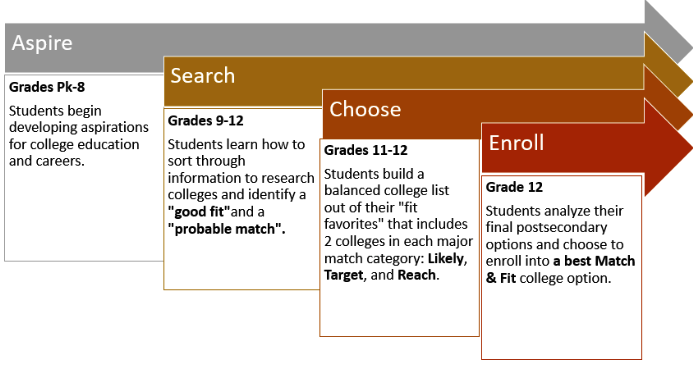 HPS Balanced College List Categories and Expectations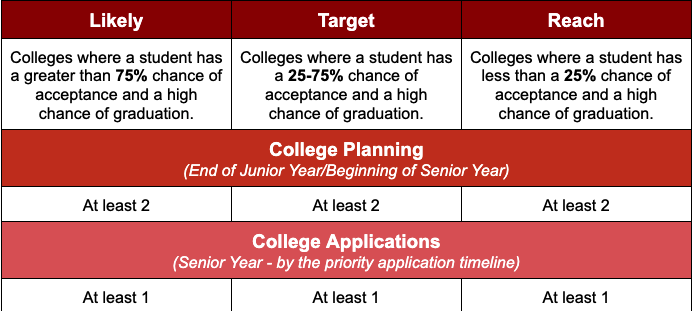 College Match & Fit Timeline